One of the first few things I realised upon returning home was that I'm begun to sleep and wake up in accordance to the schedule I've endured back in the hospital. Having subconsciously conformed to this pattern, I occasionally get up in the middle of the night to urinate, only to feel mighty hungry afterwards. I think my body is detoxing itself from the catabolic steroids its been pumped up with for the past few weeks. My wonderful brain surgeons, the gentle Mr. Azizi Abu Bakar and Mr. Toh has discontinued my dosage thankfully and it should take a week or two for the drug to wane off my system.

Hospital Universiti Kebangsaan Malaysia (HUKM), to me, in a nutshell, offers such a comprehensive amount of support for cancer patients. The ENT, ophthalmology and radiology department deserve high praises for the pace that they operate (seriously, you don't really wait for too long in HUKM). No one dared to touch my case until HUKM showed up and took council with their network of medical professors to seek the best possible solution. Any cancer patient would at least be grateful for that. I was blessed to have a fellow Penangite, Neurosurgery Unit MO, Dr. Soon Bee Hong to talk to me when I felt down and confused. She's very attentive to detail and her discharge letter certainly made my follow-up plans much easier to manage.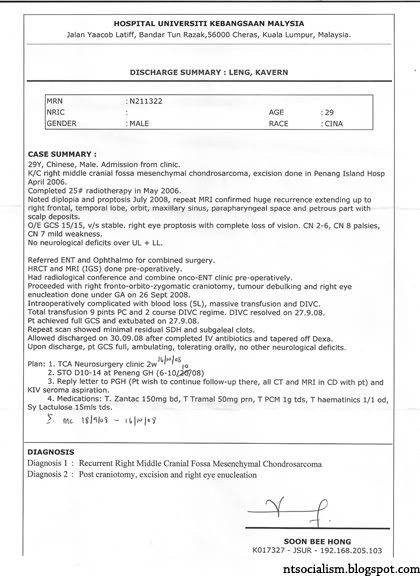 My discharge letter.

Coming back to Penang during the Raya holidays was perfect. When you lose so much quality in life, you rarely look back and take anymore for granted. I miss my Penang friends. I miss the Penang food. I miss every single Penangite all of a sudden! I've even promoted Penang to the nurses at HUKM and told them to please ring me up if they ever get a few days off work to travel up north!

I guess what I'll never bitch about during my fight with cancer is that God never took LOVE away from me. I still think back with awe at how much moral love and support I've been receiving these past few months and I just kneel down in prayer to thank those who decide to give.

I have an appointment in a week with Penang GH to remove the necessary stitches and excretion of fluids from my head (it is slightly bulbous at the moment). I wouldn't go as far as to call it a serious case of hydrocephalus though. Merely a aspiration of seroma over the operative site should suffice. I am also nursing haematoma noticably present on my arms and right wrists.