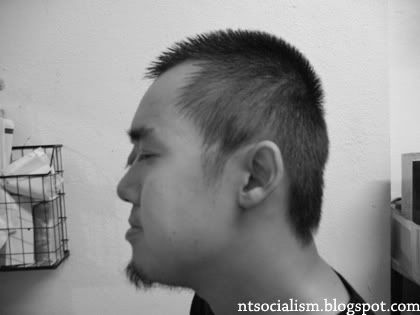 I look like one of those football manager characters in EA SPORTS' 'FIFA07', no?



Meet Darth Vader. *heavy breathing*

My mind drifts away from reality at times. It's hard to keep a firm grip on what's going on around you when you're suffering from bone cancer in your brain. It gets even harder as each day passes when my body's immune system falters against an almost unstoppable disease that promises to devour my brain before it lets up. And yes, it's more difficult to endure than it looks. It has now gone to affect the posterity my sclera.



The white of my eyes has already been pushed out of contortion.

The sleeping pills don't work either and they keep me in limbo for many hours even when I'm on half the pill. I eat late and sometimes only once a day. I sleep at irregular odd hours. I barely move from my bed. I fidget around my bed in a clockwork motion, bearing the pain and discomfort.

While I'm still waiting in vain for a surgery date, I press for inner strength. I call upon it in such agony so as to allow for my body, mind and soul to enjoy tranquility, albeit for a few hours. That's how hard it has been for the past week or so. I keep this bible verse in check every time I feel that the going's tough.


"Body, I speak the Word of Faith to you. I demand that every internal organ perform a perfect work, for you are the temple of the Holy Ghost; therefore, I charge you in the name of the Lord Jesus Christ and by the authority of His holy Word to be healed and made whole in Jesus." (Prov. 12:18)