Some say a visit to a record store and especially an independent one etches an everlasting memory in your childhood and it is always one you hold dear to even when you hit middle-age crisis. Nothing beats the feel of listening to a CD in a record store; showing off to that chick in the corner that's flicking through the R&B archives. Independent record stores offer you the opportunity to be a rock star for a few moments while you're there. Now as the final pages turn for Penang's finest independent record store, I feel desolate as though an institution filled with dreams, ideas and of emotions have suddenly shut me out.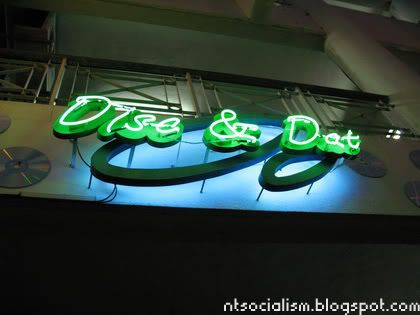 The last independent music store in Penang, Disc & Dat, closes its door permanently this June 2008. This is a sad moment for music enthusiasts in the island state of Penang. I recollect many fond memories spending my weekends browsing through records in Disc & Dat. I can't really remember how many pristine records I've bought from the shop. I had a weird hobby of keeping my CDs in mint condition (yes I buy and STORE them accordingly under room temperature).

As I glimpse through the photos taken before the imminent closure, tears roll down my face. I asked myself "Where will the indie kids get inspiration after this? Where will the next melting pot for music critics be? Where will lovers find their soul food? Where will their savings go to? Arcade games? Clubbing? Bowling?".
_______________________________________________

A week ago, I visited Disc & Dat to check out the rumoured 'Stock Clearance Sale' everyone from Gertak Sanggul to to Teluk Bahang was talking about. The usual baritone voice of Mr. Ivan Gooi, the shop owner, greets me with that evergreen smile. Humility and courtesy, it seems, isn't a sight often seen or heard of in today's music retail chains. Call me a snobbish customer but I don't recall a moment in time when I actually felt at home shopping at HMV or Tower Records.

Today's local music retailing business is wrecked and shot in the foot by the very soul of the music industry; the high school and college kids. Akin to what I've noticed in Singapore, almost every child in their teens holsters an iPod in his/her jacket. Held back with disappointment, Ivan informed me that due to that, business wasn't as smooth as before. Salvaging the mission by clearing off his stock would the best possible ending he could think of. Coping with meagre-like earnings isn't something independent music stores can defend themselves from. Learn to steal while you're young so they're told.

Call him stubborn but Ivan has always held high regard and praises for his clients. He rarely orders locally pressed discs and instead chooses to bring in imported DVDs (for his DVD rental corner) and foreign pressed CDs (Japan imports and US/EU imports). To his discerning customers and 'sometimes hobbyists', this is fondly appreciated and often told to him that for an islander to walk into the store, it is likened to a kid walking into a candy store. The outstanding service one experiences in Disc & Dat is a mere hindsight after championing the independent record store against all odds for over 14 years.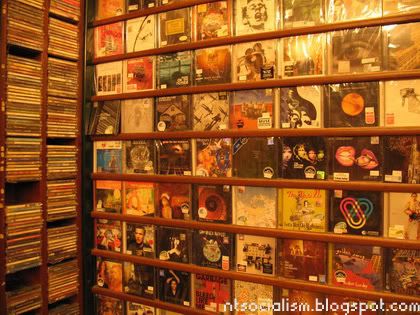 Disc & Dat's indie/rock music section. More than meets the eye...



Ivan's DVD rental section...it's very nice...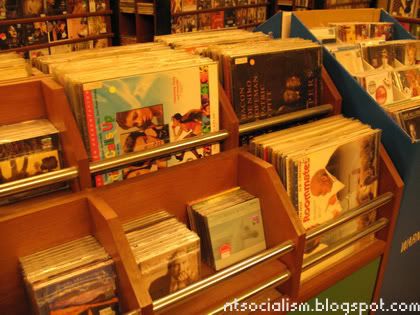 Oh yes, he does 'old school' too...laser discs for sale!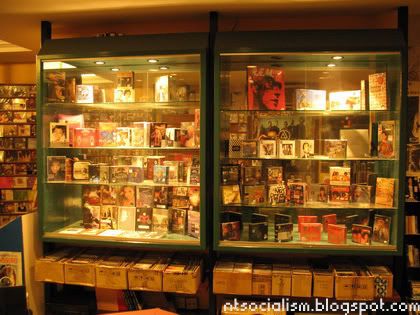 Limited and boxed sets are protected from the elements.

Ask any hardcore film buff and he'd tell you that if counterfeit copies aren't available uphill in Batu Ferringhi, why not get the premium via Disc & Dat's DVD rental service? Options aplenty is the name of the game for Ivan stocks up his foreign films like nobody's business! Ivan offers import versions of films that have escaped the pirated DVD trader's radar as well as the mainstream ones.

Alas, even with a legion of regulars, business couldn't be sustained and it was forced into closure due to the financial state of things after a consistent 5 years' worth of drop in sales. Ivan still feels happy to have played a part in enriching the lives of the people in Penang. Ask him if he feels closer to being Rob Gordon, the main character in the movie 'High Fidelity' today than when he started, he humbly replies in his natural British accent, "...of course I'll never be as good as him...he's fictional!".

Me : Everyone knows you here!
Ivan : I've been in the business for a very long time! It's just that some people are not bothered. The business has been here for 14 years. I've watched you guys grow up! Some of my old customers walk in today with their kids and their wives. Believe it or not, there's must have tons of people who have been here and made a purchase or two that changed their lives. Students who burn the midnight oil for exams. Lovers. Artists. Poets. Bloggers.

(I nodded in agreement.)

Ivan : All good things have to end eventually.
Me : Yeah, naturally that's how the universe works but hopefully not on a sad note. I hope you eventually get to clear off your remaining stocks.
Ivan : That my friend is utterly impossible. I have a whole stack of singles which has not seen the light of day since it was shipped in!
Me : Ok, let's say if you only have a balance of ten to twenty percent left in stock in late June, will that be good enough for you?
Ivan : Gosh, that would be a miracle. And I could sell off the balance online.
Me (grinning) : Hehe...oh yeah...
Ivan : But there won't be much left. What's left would be pure rubbish. The ten ringgit ones, the pop albums, the one album wonders.

(Jack Johnson plays in the background)

Me : Ok lame spot question time. If you had to pick three albums right now from your store that you totally will not want to sell off even to your most loyal customer, what would those titles be?

(We were briefly interrupted by a disc player malfunction.)

Ivan : When you close down a business, shit tends to breakdown at a rapid rate around you.
Me : Haha!! Ok let us go back to those three albums you'd never sell.
Ivan : Hmm...I can't specifically name any but it'll likely be the albums from the trance music section. I think some may have already been purchased. Hmm, tricky question here to list favourites out, yeah?
Me : Exactly. Lame spot question time. (smiled)
Ivan : Well, for the company, I can't really say no to any customer especially during these times. I can only deter by possibly offering lower discounts. I am very fond of the British music scene...albums from Portishead.
Me : 'Third', the new album?
Ivan : Didn't get the new one. I've stopped ordering. Anyway, Massive Attack is another act I won't sell cheap. And a few British scene bands.
Me : You have an immaculate collection of those I agree.
Ivan : What I rarely listen to are female singers with the exception of Tori Amos and Kathryn Williams. And compilations too...I usually prefer to listen album by album.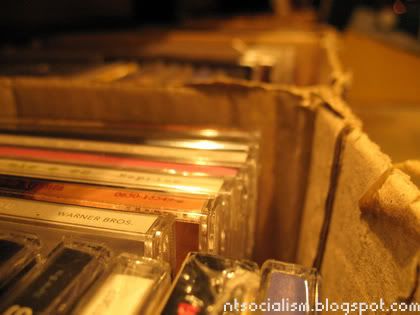 This box of CDs could be yours for a fraction of the original price!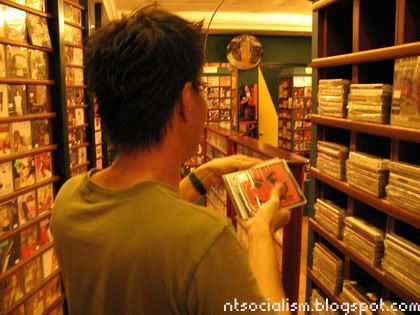 The camera shy Mr. Ivan Gooi with his iconic hairdo, flipping through some CDs he probably won't sell cheap to you.
Disc & Dat (established in April 1994 and closes down in June 2008) will no longer be here in Penang but many of us will always remember the magnitude of joy after scoring 5-inches worth of CDs we've been pestering Ivan to reserve. I think it will take some time to swallow the fact that an institution has gone and thus leaving many good tunes going unnoticed.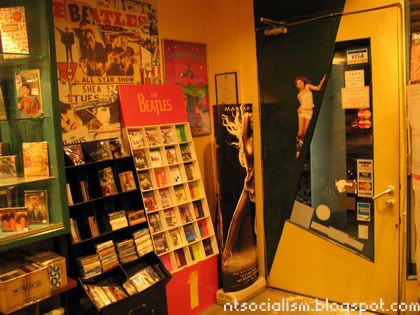 _______________________________________________
Here are a few more shots taken yesterday evening: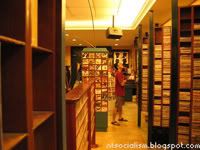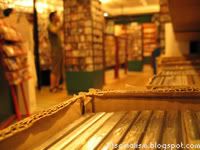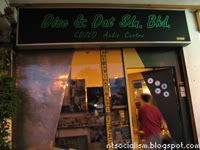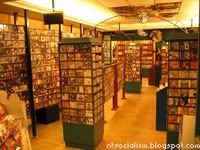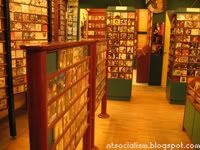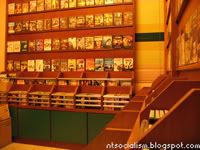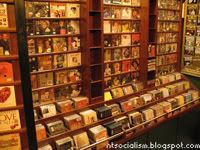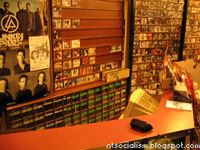 Disc & Dat (Add: 125G Desa Tanjung, Jalan Tanjung Tokong, 10470 Penang / Tel: 6-04-8990864) will remain open (except for Mondays) until the 3rd or 4th week of June 2008. Ivan will be offering 20-50% discounts on selected titles so please feel free to drop by.