If you display a fondness for sweet concoctions, I have just the recommendation for you. This is nothing new to the islanders for it has been around for ages, circa 1970 to be exact. Tattered yet comfy, this roadside stall in the form of a rickshaw has been in operation for many years; delighting nearby residents and faraway visitors with the delicious and VERY cheap (MYR 1.00) 'honey lo han kuo' (a form of Chinese herbal beverage).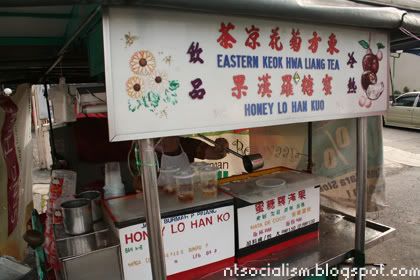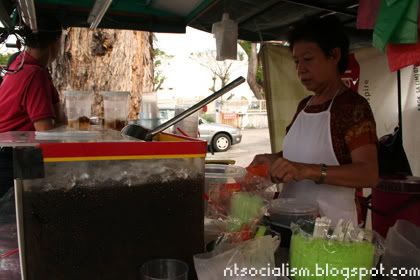 The roadside makeshift stall is owned by Mr. & Mrs. Lok. They have been actively trading since the early 70s when they first set up their business along Magazine Road. After a few years, in 1976, they then relocated to where it stands today, Burmah Road, where they enjoy a healthy stream of regulars from nearby office buildings salivating for a taste of their version of 'honey lo han kuo' after a hard days' work.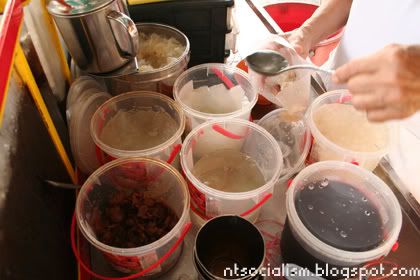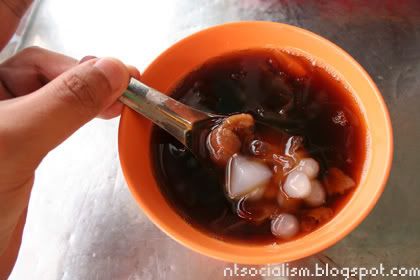 Its contents consist of nata de coco (jelly), a scoop of white fungus, a few dragon balls (longans) and some small starch beads. When asked about her famous herbal drink, she offered me a little tip that, "...it's a home-made recipe...nothing fancy...you just gotta wake up a little early to prepare it to match the customer's expectations."

Small swarms of non-poisonous/non-attacking bees often mingle about here and the numbers intensify as the durian session draws closer. But the more bees show up, the more customers turn up too. After interviewing Mrs. Lok, she says that with the current trend of food prices going up, business isn't as fruitful as before and they've actually had to absorb losses in certain areas and also due to the hefty cost of chrysanthemum flowers, they were forced to stop selling chrysanthemum tea altogether since 2008. She is however grateful for the community's support and never fails throw customers aback with her delicate 'Annie Lennox-like' smile even when it's a friggin' hot sunny day.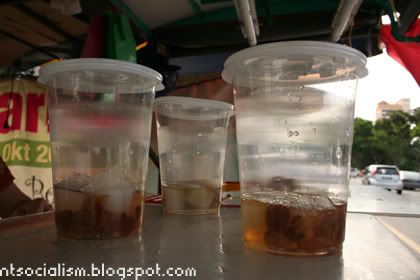 The roadside stall is located just beside the Union Primary School, a few metres from a 7-Eleven convenience store. Its opened daily from 1200 hours - 2200 hours (except for Sundays).