I'll be frank with you. It's hard to be cheerful and motivated all the time when you're faced with an illness that's bound to crop up if not policed accordingly. Sure, being a cancer survivor, it's irritating enough being negative but I'd be lying if I told you that I haven't felt that there are days when I sense that the end is near.

I still suffer throbbing glimpses of pain in my intracranial orbit a few times a day. Those are ones that bother me the most rather than my facial paralysis because it suggests that there's still work to be done. This time, I'm hoping that it doesn't cause a neurological discrepancy before I have time to detect its progression to a more cautionary level.




Dealing with anxiety, my mother and I have been trying to spend our days here like there is no tomorrow. We took the streets and our excursions led us to Brigade Road, a high street shopping bazaar that even Malaysians would be envious of. So it was a packed-to-the-brim sort of weekend in Brigade Road. To my left, a jewellery salesman; plying his trade as usual and selling his goods to tourists at exorbitant rates. To my right are a few clothing boutiques ranging from the now-obscure Pepe Jeans (unless you're into F1 racing), Tommy Hilfiger, United Colors of Benetton to branded sports apparel stores.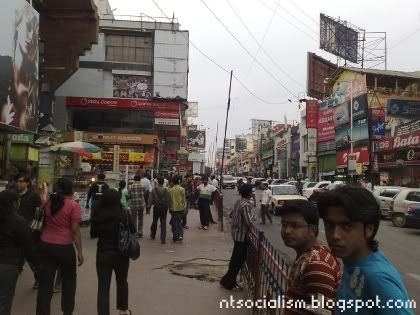 Brigade Road...where the young dudes shop!

But what didn't occur to me was that God sent a messenger that I would meet by chance. How that accidental meeting came about was through a simple "hello" on my part. This revitalising appointment set up by God with a benevolent preacher named Daniel was not a chance encounter but one that was pre-arranged by my Heavenly Father to wake me up in certain areas. It's true that once you accept Him as your personal Saviour and seek His presence in your life, He makes it the best choice you ever made!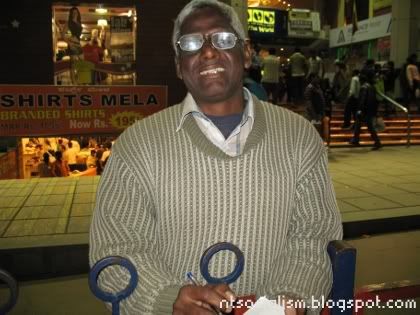 At the end of Brigade Road, whilst my mother was browsing through some beautiful garments at the mall, my eyes made contact with an Indian man, standing gallantly a few metres away. He was dressed in what seemed to me at the time, a pristine white sweater that could have been mistaken as an angel's outfit if God wanted to despatch one to speak to me. When I addressed that gentleman, he unpretentiously glanced back, looking somewhat confused by this role God has summoned him for but certain of himself. He walked towards me and then I noticed the whites faded to green but pressed elegantly for someone his age. We shook hands and I explained to him the reason why I am in Bangalore. He introduced himself as Daniel, a former clergyman from a local Methodist church, St. Mark's.

Our lengthy conversation on Christianity kicked off with him elaborating to me about his family being in Malaysia and that he has stayed back many years after the 2nd World War even though his relatives have fled to Malaysia. What surprised me the most was his striking resemblance to my Dad's virtues; well-versed in the Scripture and an asserting character but better in the sense that he displayed a certain sense of calmness when preaching the good word of God.

He then asked me if I had faith in healing through Christ and without hesitation said, "Yes by all means!" He further illustrated that because of walking through faith alone, he was healed many years ago before any form of treatment was available in India for his health predicament. And he has survived up till this day! Doctors, he stated, are mere tools of healing but to achieve that, one should seek for Jesus for He is just and merciful to those who keep the faith. After all, if he was loyal and serving Him diligently, wouldn't it have been a shame that God took away his life when he has such a big heart to offer to his community.

Daniel goes and shares with me about the power of prayer in life; your conversations with the Lord. Now, this is not something new and unheard of but Daniel then reiterated what my Dad has advised me before but with different sort of vigour: whenever you're feeling overcome with despair, seek the worthy King for your full armour of God, belt of Truth, breastplate of Righteousness, shield of Faith, helmet of Salvation and sword of the Spirit (as quoted in Ephesians 6). If you're still stuck in a rut, John 9 (when Jesus healed a man born blind) should be studied and meditated upon.

I stared at him obviously in awe and exclaimed "Amen!" in the middle of a crowded street. God had put my doubts and transgressions to a halt and turned my life around back in 2006. He knew that doubts were creeping up again and He, the great director and comedian, sent an angel in the form of an Indian pastor to remind me that He loves me!

God, I feel, didn't stop there. When I requested my iPod to shuffle itself, it played Eric Clapton's 'Tears in Heaven', I took the meaning of the song title in its literal sense; that is I'd like to be crying happy tears in heaven when I'm in the presence of the Lord.

Again, the limited internet access I have here in Bangalore may bring about long delays before I get another chance at blogging so I apologise in advance for my tardiness.