Music: Hideaki Tokunaga - 'Ano hi ni Kaeri Tai' ('I Want To Return To That Day') (click to download)

This post may not mean a single bloody thing to most of you but it is of sentimental value to ex-Penang Free School students to hear that the car registration number 'PFS 1816' did indeed fall into the hands of an Old Free!

What is the significance of this number anyway?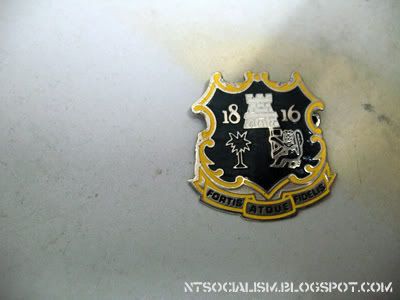 Penang Free School (or PFS as it is fondly known) is a Malaysian Book of Records certified first and oldest English school in South East Asia. Its roots in history is dated back in the year 1815 when Reverend Sparke Hutchings (b.1783 - d.April 20th, 1827.) initiated the proposal to the Governor of the then Prince of Wales Island. On the 21st of October 1816, the school was officiated to commemorate the 30th anniversary of the demise of Captain Francis Light. The original school grounds located along Love Lane and Farquhar Street, Penang was used while awaiting the completion of the building in Church Square. The school moved again, in 1928, to its current 30-acre location along Jalan Masjid Negeri (formerly dubbed as Green Lane).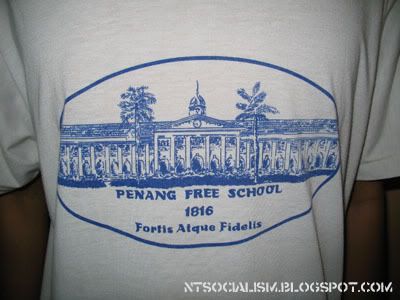 The year 1816 plays a pivotal part to all old Frees' hearts and soul because that was the year that their alma mater was born. A school who once flourished in academic and sporting excellence, the students had a habit of being overzealous and often hailed upon as the educated, elite and intellectual. This moniker is further aided by the school's former policy of carefully selecting only 'top grade students' from all over Penang's primary schools and further nurturing their talent and ability to exceed their fellow peers elsewhere. From what I've always experienced, ex-Frees are almost always proud of their former school and hold true to the school motto 'Fortis Atque Fidelis' (strong and faithful). Notable scholars from PFS include the late artist P. Ramlee, our beloved Tunku Abdul Rahman, 1st Prime Minister and founding father of Malaysia and Dato' Eddy Choong, the former All-England Badminton champion.
_________________________________________________

Years have whistled by since the availability of 'PFS-prefixed' vehicle registration numbers. And although the chance had elapsed for most of the ex-students in my year to get the honour of registering it for their vehicles, the gossip circle were quick to start rumours of the number receiving bids up to MYR 30,000.00 (equivalent to USD$8333.00) and that it was already won by an ex-Xavieran who just wanted to piss the elite off. To those who are not in the know, English-educated Penangites call the 'Penang Free School-Saint Xavier's Institution feud' the never-ending rivalry between two highly respectable British schools in the island. Some people actually compare the rivalry to what Manchester United and Liverpool FC have between each other.

There have also been word of mouth being spread that some well-established but mysterious Datuk (knighthood) in the capital city of Kuala Lumpur made the purchase of this vehicle registration number way before it was officially open for bids.

I was held speechless this late afternoon when I was casually driving around Balik Pulau with my girlfriend after a nice bowl of traditional Malay laksa when I accidentally spotted a shiny, black Mitsubishi Triton parked in a lot in the middle of the Balik Pulau township. I instantly hit the brakes, almost causing panic to my girlfriend as there were no less than a dozen cars that were trailing behind us before.


"Oh my God! I can't believe it! We finally found her!", I exclaimed in sheer delight.

"Calm down...what is it?" she asked.

"The car registration number that everyone's been askin' about for the past few years...PFS 1816! Do you know how many people were in the hunt to purchase the rights for this?!"
I quickly got down and surely enough snapped dozens of photos of the stylish and robust car while my girlfriend sat and waited for my abnormal levels of ecstasy to subside. We sat in a stool waiting for the black beauty's owner to turn up but to no avail. My girlfriend gave me a quick nudge and told me that a pharmacist from a shop nearby was looking towards our direction in a disconcerting manner. I gave her a quick wink and ran towards the tall bloke with a digital camera in one hand and a notepad in the other.
"Are you the owner of this vehicle?"
"Yes. What's the matter?"
"Do you have any idea what your vehicle number means to a significant number of Penangites?"
"Of course I do. It's the year our alma mater was born!"
The geezer and I both laughed our hearts out. Personally, after spotting the car and the owner, the surreality I felt was a hundred times better than winning the lottery. I kept asking him to oblige that I take a few shots of him standing alongside his car.
Here are some of the images taken: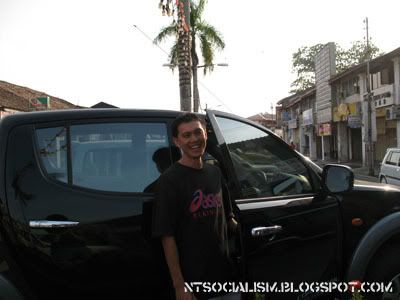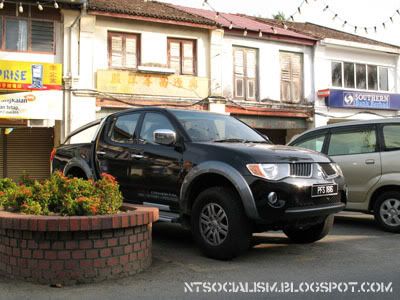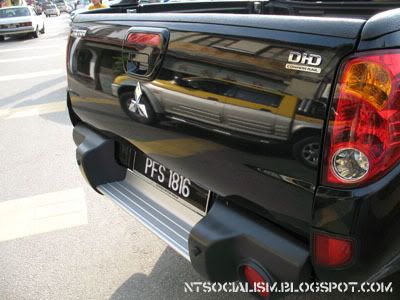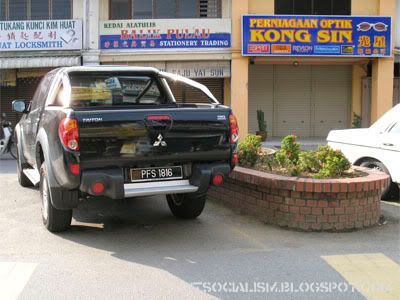 Mr. Lim Yew Meng, the owner of the registration number, is a modest and cheerful chemist who owns a pharmacy in Balik Pulau, Penang. Born and bred in Penang, he underwent his formal high school education in Penang Free School and completed his final year in school in 1983 under the guidance and leadership of the then headmaster, Mr. G. Krishna Iyer. Ironically, upon purchasing this car, Mr. Lim had informed me that he'd never really driven a car on a regular basis - he owns two motorcycles; the second quickly purchased to register and go on a bidding war for 'PFS 1816' when it was made available. Unbending not to disclose the payment tendered to obtain exclusive rights to hold this registration number, he added that it was only recently transferred to his new Mitsubishi Triton approximately three weeks ago. Amusingly enough, his three-week old car has already been hit twice by unknown drivers - to which I responded, "Hmm! Must be them Xavierans!!".
Laughs aside, Mr. Lim Yew Meng is currently looking for aspiring artists who would like to help on designing the school crest design which will be spray-painted on the car's body sometime this year. The art should be as free-flowing as possible but not leaning towards graffito themes. He would like to move on with the times but maintaining the pride of the school in the approach. Those who are interested (I am thinking Tan See Siang here) can submit over their work to
me
(any form; canvas or digital) and I will forward to him personally. Don't worry; he believes in giving artistic credit where it's due - your name/nickname will be emblazoned across a designated area on the car's body.
So, one could understand the sentiments I felt when I spotted a vehicle that adorned the famous alphabet and numbers 'PFS 1816'. No, it wasn't the car that housed the title that ruffled my feathers but it was mere awe and pride to know that it was bestowed to an old Free regardless of his background.