Music: The Stylistics - People Make The World Go Round (click to download)

God surprises you in many different ways. He makes you appreciate things that you have even more with his intricate timing. That is probably why a lot of people call him the great planner or the great comedian. Some people, sadly, who are too shallow, would not be able to see His big plans for us. I would like to think that I used to fall into that category. But, these days, I'm getting used to His beautiful approach in enriching my life with His never-ending trials and blessings. After all, it's for our own good, is it not?

Now, what I'm about to share may be of no significance to you as the reader. Some may consider it as "one of those life-changing testimonial-cum-stories". But, bear in mind that from a personal standpoint, it has been a long and turbulent road and the journey wouldn't have been a true success without the aid of my Holy Father and the loving people around me.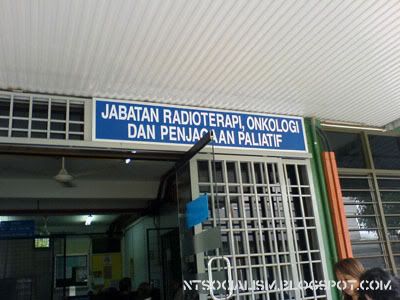 Just two days ago, I was slated to receive my latest medical check-up report based on my recent MRI scan. After receiving the doctor's verdict, I had the biggest shock of my life. It didn't occur to me that I would have this weight lifted upon my shoulders in a flash. I've endured a nerve-wrecking three hour wait at the general hospital for my results and when it arrived, I was just in awe of how great His recovery (or in this case COMPLETE HEALING) plan is.


Doctor: I believe that after the MRI scans were done, it is noted that your cancer cells are not there anymore.

Me: What do you mean they're not there? It's supposed to be there...or at least the residue left from the radiotherapy sessions?

Doctor: Based on these scans that we studied thoroughly, I'm very pleased to inform you that your cancel cells are gone. Or disappeared. Whichever you prefer.
How great things can be done through belief and prayer alone! The type and location of my brain cancer was supposed to be a rarity and having said that chances were more like 60-40 for a full recovery. I had no doubts that I could fight on if the cancer was presently inactive on the base of my skull but having vaporised out of the blue certainly raised more than one eyebrow when depicted to my friends and family.
Emotions took a back seat as I was still overjoyed by the result. I didn't break down in tears until the morning after when I shared this with my colleague at work. He too, shared with me some testimonials of his; first-hand experience with the power of the Holy Spirit when called upon. All of this, came as a revelation because, as most people who know me would know, I was never a staunch Christian. I guess God had to put up this wake-up call for me to come back to Him but He never ever puts you in a position that you can't handle. He's put so many important characters in my life (good and bad) to mould, prepare and support me when the going gets tough. After having the conversation with my colleague, I felt alive. I felt enlightened by His almost-impossible-to-comprehend sort of love. I went to the lavatory and just broke down in tears calling out to God and thanked Him for not leaving me in despair when I needed Him most. All I needed was an honest prayer and faith.
Now, everything seems to be falling into place. This year will be a busy year for me in terms of getting my projects up and running with the support of friends and family. I thank everyone from the bottom of my heart - especially the one I call my Lord in Heaven.