Dance event, 'Bassmental' returns to the club and this time they're touring Penang.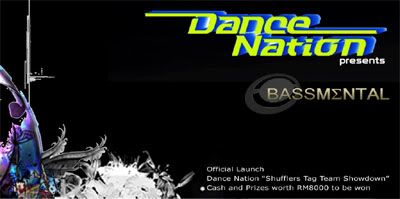 The event will be held in Flix, arguably Penang's premiere dance club. Spicing up this event with be DJs I-Sec and Flik along with VJ Pixel Punk conjuring up the visual feast during the event. So bring on your bloody shufflin' feet along and party all night long if you're jobless/female/know of some doctors who can 'write up' a medical leave for you.

'Bassmental' in Penang will be held this Thursday, 17 August 2006 from 2200 hrs - 0300 hrs. Flix Penang (the location of this event) is at No. 1-01-01, 02, 03, E-Gate, Lebuh Tengku Kudin, 11700 Gelugor, Penang. If you're a self-styled Melbourne shuffler who is interested in joining the 'Shufflers Tag Team Showdown', kindly contact Azani @ 012-4179836 or Jason @ 019-4458865. Upon selection, you stand a chance to win cash and prizes worth MYR 8,000. So what are you waiting for, kids? Kill the Melbourne shuffle scene!