Music: Calexico - Bisbee Blue (click to download)

Either I'm foolishly trying to be optimistic about my health condition or I'm just too sick and tired of being unhappy about my physical/mental state for the past month.

Looking on the bright side of things, being cooped up at home has its benefits. After weeks of slacking at home and unsure of my future; healthwise, I've decided that Momo's lunch hour visits had to have something sparky about them. It has been such a long time since I've cooked anything for her so rushing through the hypermarket last night with my brother, we bought home a bag of groceries which we thought would be of some use in the kitchen this week.

Momo and I are fond lovers of fish and what a better way for her to resume the second half of her working day with a little pizzaz of having canned sardines, fish porridge and a dish of lightly salted baked beans to boot. Hmm, porridge, beans and sardines...sounds like a standard military lunch to me!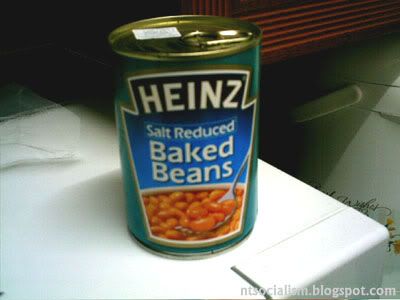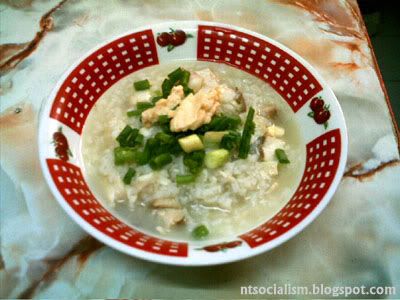 For beverages, our current champion would be this relatively new product from Greenspot Thailand, 'V-Soy'. It's an all-natural soya bean milk drink. I love this drink because of its authentic milky soya taste which you obviously can't taste in Yeos'. 'V-Soy' is commonly found in local 7-Eleven chains in 500 ml bottled form and in hypermarkets in 1000 ml Tetra Paks.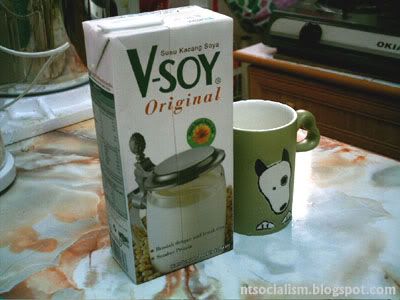 Yeah, to some folks this may be merely boring home-cooked meals enjoyed by thousands of fellow Malaysians. But to me, it's a sheer delight to be able to carve a smile out of my girlfriend's face.