I am racking up my thumbs and appetite for something delicious today. I probably have to avoid taking anything fried and starchy till the day I undergo surgery but this post was inevitable and has been a long time waiting.

Cargas Cafe is located at 978 Jalan Bayan Lepas, 11900 Penang. Established in 2000, this place is highly regarded by many affectionate food connoisseurs working in the freight forwarding industry around the Penang International Airport. They serve a delightful fusion of 'nasi melayu/nasi padang' with a whole host of delicacies to go around with it. Some favourites of mine include their ayam kicap, daging lembu cincang, ikan pari assam pedas, baksu daging and ikan gulai bawal.


Cargas Cafe's menu. Click to watch the short video.




Yes, the title up there is derived from a local slang Penangites like to use when they head over to this 'kampung-styled' looking eatery with arguably the best fried chicken recipe in town! The signature R&B/reggae music being played in the cafe (courtesy of head chef, Mr. Din) may take some time to get accustomed to, for non-regulars, but it balances out the whole atmosphere of a good eatery and upbeat music for lunch time. For me, it's an excellent place to socialise with the people I work with everyday.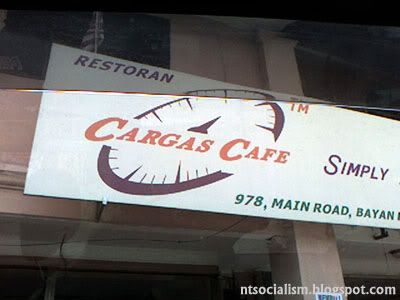 The famous speed-o-meter banners!



A not-so-crowdy day...yes, it does get busy around here!




Regulars like myself are often ushered in by the cheerful Mr. Omar, the pony tailed manager and owner of this outlet. His team of quick and ever-efficient staff members never ceases to amaze me. There's always the fact that it's ALWAYS jam-packed with people queuing up for 15 minutes just to get their meal but believe me when I say that once you've tasted the dishes here, there's no turning back.

UPDATES (15 April 2007): Here are some recent shots that I've taken this afternoon.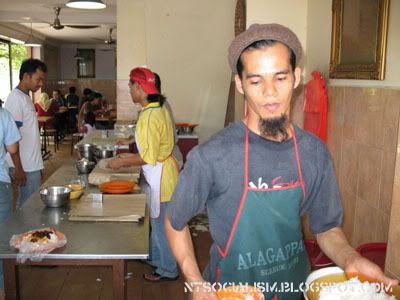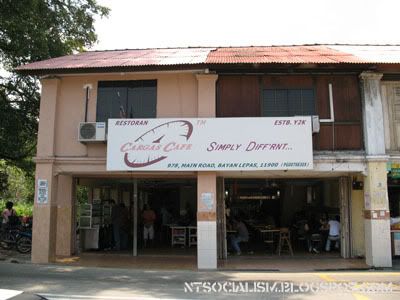 UPDATE (13 May 2007): The Star Online has posted an article on Cargas Cafe although it looks like the article's writer, Anna Cheah, has got the captions mixed up. The picture depicting Mr. Omar seems to be misquoted as Mr. Nasiruddin.