Nothing was going to stop me from catching Explosions In The Sky perform live in front of an ecstatic crowd in the heart of Kuala Lumpur. The band brought me such good memories in a time when I almost stopped believing in life.

Jet lag didn't affect EITS much that night. Munaf gave a brief speech before proceeding with a 90-minute performance with virtually no breaks in between! How is that for hardcore?

Here are some shots from where I was standing: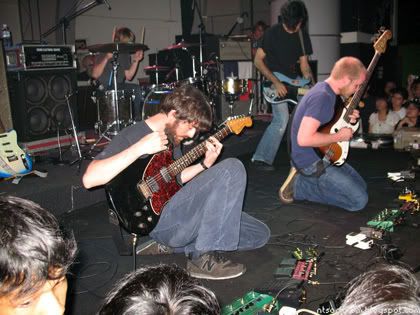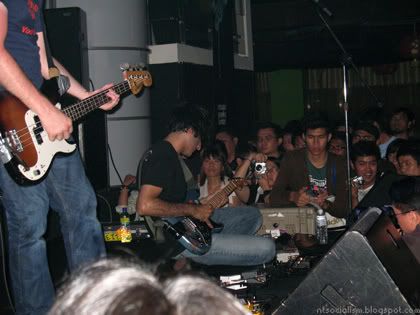 The unannounced setlist for the night was as follows:
1. First Breath After Coma
2. Welcome, Ghosts
3. With Tired Eyes, Tired Minds, Tired Souls, We Slept
4. Song For Our Fathers
5. Greet Death
6. Your Hand In Mine
7. Memorial
8. Yasmin The Light
9. Catastrophe And The Cure
10. The Only Moment We Were Alone

I was left to think of how the gig might have went if they managed to sneak in some songs from 'The Rescue'. A host of people in the back were whispering "I hope they play 'The Long Spring'..." but their wishes faded in the screams of adoration of Malaysian and Singaporean fans; some having traveled a few hundred miles just to catch a glimpse of these post-rock geniuses at play. There was no encore and after consulting my friend Azan, he reminded me that the band rarely do encores as their set lists are meant to be continuous and a riveting experience. The band did look worn out towards the end but large sections of the crowd were forgiving.

In a swift move to patch things up with the fans, the band allowed for an autographing session. Take a look at these lucky gentlemen who managed to squeeze in a dash of ink or two from the band!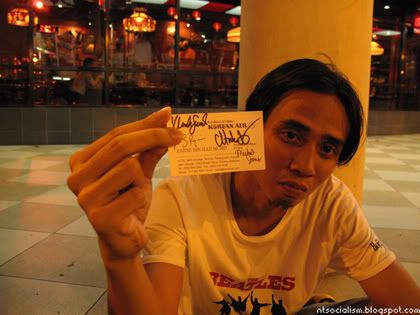 What a very memorable night at Ruums Bar, KL. What a passionate and intense showmanship displayed by these Texan rockers! A huge THANK YOU to the key organisers and legion of fans who flocked together to make the night a memorable music event!