Music: Tortoise - Seneca (click to download)

I survived my 13 hour craniotomy, by the mercy of God. The duration itself was expected but the doctor was having some problems removing the delicate meningioma tumor bit by bit from my temporal lobe. It has been two weeks since I was discharged from the hospital and I've been recuperating at home taking in pretty much everything that falls under the category of 'healthy vegan diet'.

The first two days after surgery was hell for me. The intubator that was used busted my Adam's Apple; probably caused by the extended use (13 hours is pretty long) and I was left nil by mouth for the first two days in the general ward. The only comfort I had for my sore throat and dry mouth was hourly water dabbing on my cracked lips and a ounce of water everytime I took my medication (painkillers and antibiotics). I was discharged on the 1st of May, which was coincidentally Labour's Day. The pain in my head had then subsided but I was left with a case of nerve paralysis on my right cheeks (which I am STILL experiencing up till today) and swollen head, cheeks and throat. There was a total of 38 stitches and staples stuck across my head which was taken off the week after when I received my biopsy result.




Upon discharge, the new batch of medicine included a dramatically reduced dosage of steroids which I was only required to take 2 pills, once a day. This inevitably helped reduced the swelling of my feet.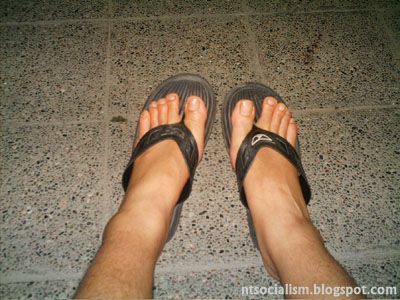 I was also required to consume other medications such as Zinnat (cefuroxime axetil) which is an antibiotic and Arcoxia, commonly known as a non-steroidal anti-inflammatory drug. The third batch of drugs consists of Dilantin capsules (to prevent seizures) which I've been instructed to take 3 caps once a day before bedtime. As of 12 May 2006, I've finished taking both Zinnat and Arcoxia and managed to lose 5 kgs from the total of 90kgs gained just before my surgery.

And then the second hurdle was announced. The pathology result showed that it was indeed a malignant tumor and not a benign one as originally conceived.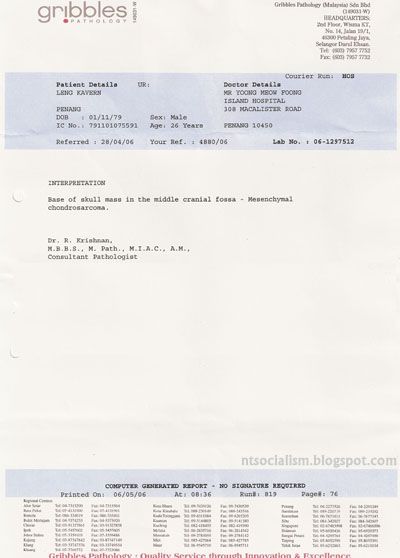 Click on images to see enlarged view of biopsy.

My surgeon is confident that with proper dieting and disciplined radiotherapy, the results will go my way but then again there's always the question of whether this is indeed a non-aggressive type of Grade 1 chrondrosarcoma or whether it is at its advanced stages of metastasis (the latter being unlikely as the tumor was removed 95% during my op).




If left unchecked, it will pose an imminent danger in the future. Falling back on the earlier blog post, I do have the lottery ticket now and suddenly my whole life becomes a reality check; constant monitoring and change of habits need to be cultivated immediately.

I need to attend a CT scan for both my lungs and brain by Friday at the General Hospital. Updates (stage of cancer) will not be available till then. Hopefully the results will be favourable, knowing that I've smoked cigarettes before. Right after that, if radiotherapy treatment is indeed required, I would request for the kind permission of the doctors to refer me to Hospital Pantai for the treatment as I live nearby in comparison to Mount Miriam Hospital.