Music: Feeder - Tumble And Fall (click to download)

A friend used to tell me that "if you work as hard as you do, it's inevitable that a trip across the border soothes the mind and body". I am not too sure what he really meant by body cleansing (most peeps in Danuk only believe in 'ass-humping' right?) but I wouldn't mind a little visit to the laidback country town along the southern border of Thailand-Malaysia.

The trip to Thailand was relatively relaxing, if not for some domestic problems back home in Malaysia that I had to keep to myself till my return the evening after. I spent almost RM 70.00 excluding tips (approximately USD 18.00) on an full traditional Asian massage and oil massage which lasts for 3 hours! That wasn't so much of a burn in my pockets as most Malaysians know that back home they commonly charge RM 50.00 for an hour's worth of Asian massage! What is a visit to Thailand if one doesn't experience a dish of authentic Thai 'tom yam'?

Thankfully, all this globetrotting and food tasting didn't stop me from taking some pictures to share with y'all.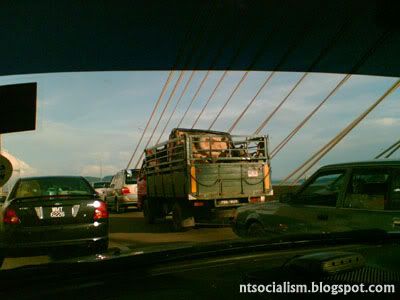 The usual traffic congestion at 1700 hours on the Penang bridge.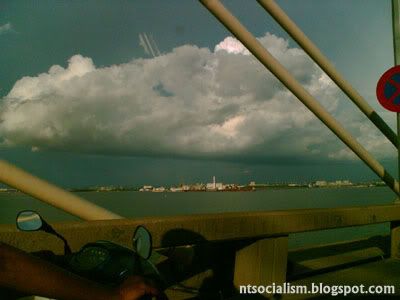 A shot of the beautiful clouds hovering over Butterworth.



Spotted this really nice rules and regulations' signage over my late grandfather's hotel in Alor Setar, Kedah.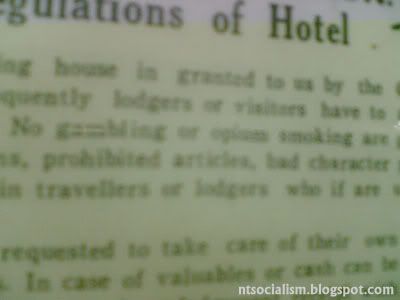 Opium smoking?? Hehehe! Now, this is one helluva old R&R board, pal.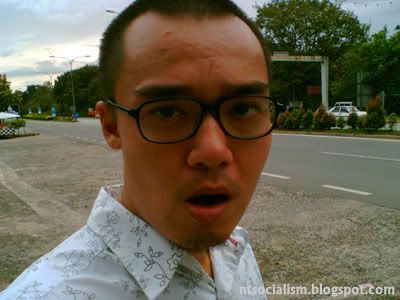 We're entering THAILAND!



Some snacks from my hotel room.



Drinks from the mini bar.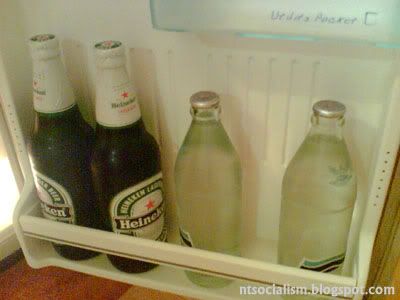 Booze anyone??



I'll probably only need this tonight...'feng tau'!!! :P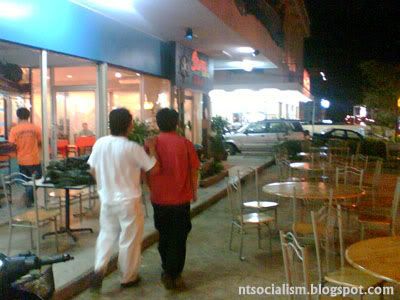 My cousin and friend heading for a late dinner somewhere in Danuk.



Boats Seafood. Hmm...very slow service I'd say, hence the name of the place. Great tasting food though!



Picture taken with Wong, my cousin's friend.



My cousin looking tired...or excited?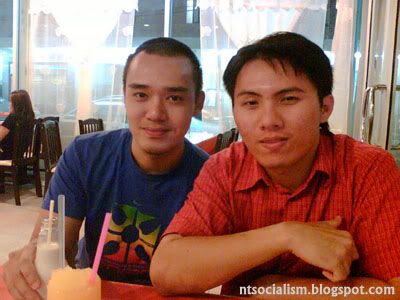 Posing with my cousin, told him I'd post a picture of us in the blog.



T-shirt adorned by Wong that says 'LOST IN THAILAND'.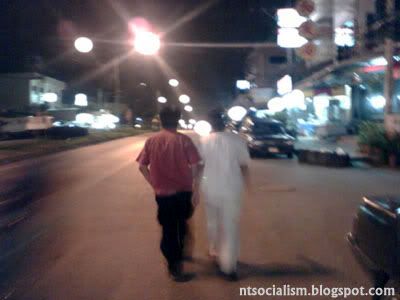 Here we go! The three of us walking to Paragon, the new 'happening' club in Danuk.



Outside it's raining, inside it's wet. ;)



Kip, female friend of my cousin, just chillin' out with us as we had our cuppa after clubbing.



Watching in-house porn television because I wasn't too keen on fuckin' up my fidelity. Heh!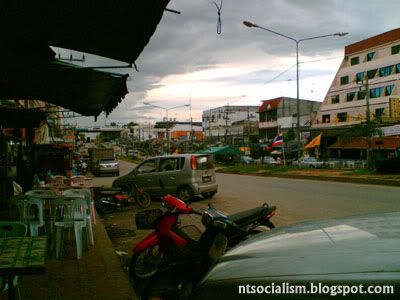 Day 2. A view of streets of Danuk @ 1600 hours after our rest and relax time over at the massage parlour.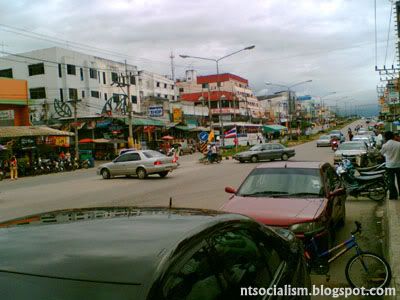 Another shot.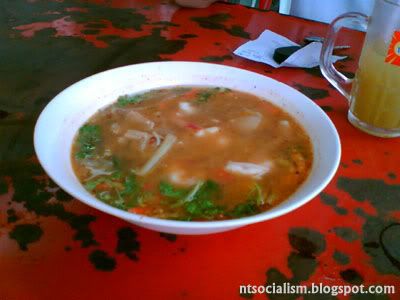 Here's what we ate for late lunch; this one's called 'tom yam'. Yeah it's the Thai dish with basil leaves, lots of fresh prawns, tomatoes, chilli and spices mixed to bring out a spicy aroma well-loved by most South East Asians.



Chinese fried rice.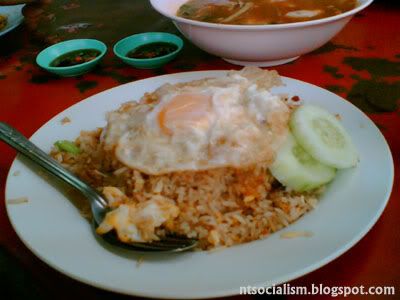 Don't you just love a perfectly fried omelette?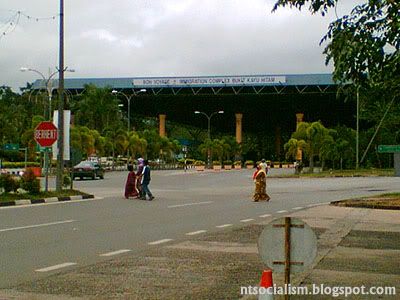 The Malaysian-Thai border @ Bukit Kayu Hitam. Bye Thailand!