Guilty pleasures.

Music: Peter Pan - Mungkin Nanti dari OST 'Alexandria' / Peter Pan - Ada Apa Denganmu (click on links to download)

Fact: There's something about these upcoming Indonesian pop/rock bands that make me feel proud for them. Artistically, they're miles ahead of my fellow countrymen.

Myth: The song 'Mungkin Nanti' featured above was performed for the soundtrack of Indonesian film, 'Alexandria'. It's supposedly a polished version compared to the one that made the band's 'Bintang Di Syurga' album cut.

Half-truth: I really, really, really want to get my hands on 'Janji Joni' if it ever comes out on VCD/DVD. *psstt...any torrents out there?*

Attended my cousin sister's wedding on the 15th of October. Food was so-so but it was nice to be reacquainted with my cousins again after a long hiatus from the familial scene. Heh! As usual, here are some snapshots taken that evening.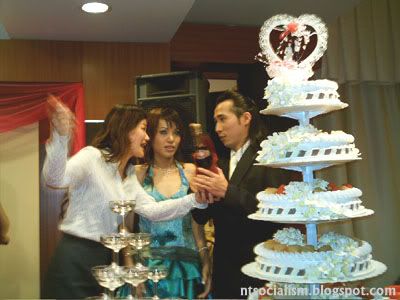 Hmm, at my age, heading to wedding dinners make me seem old and that time is ticking for me to tie the knot. Of course, all the fun of pigging out during such event's over because you tend to act a little more sensible and mature now compared to when you were a teenager attending family weddings because of your bloodties.

There were some shots of the food served but perhaps that can be uploaded a little later. Off to the gym again!

UPDATES: Some other pix taken that night...