Ok so no blogging from Starbucks but I promised more content when I return so here goes.

Being in Penang, trust the locals when they say it's difficult to stay fit with us islanders being surrounded by great food. Shame that its often imitated, with failure I might add, across the region.

Prices stated alongside the photos may vary because unless you're some dumb wannabe, like I am obviously, no one goes to Gurney Drive for their dinner. The hawker food there can be so friggin' expensive. Food anyone?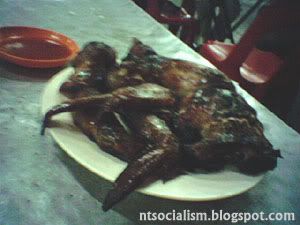 Charcoal-roasted chicken wings and drumstick (the drumstick huuugeee!). Cost RM 9.00.



Old-skool stuff. Mee udang Pulau Pinang with necessary additions; pai kut and tiger prawns (prawns not featured). Cost RM 4.50.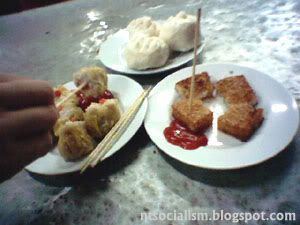 Clockwise (from left): Siew mai, char siew pau and er...hmm...wossat?! Cost: RM 5.00.