Music: Bloc Party - Pioneers / *Bloc Party - Price of Gasoline (click on links to download)

The rattle of the drums, the voice, the bassline. I took a quick glance at my ashtray, now filled with half a dozen of those death sticks and I looked at my fingers and my 7th was slowly burning away. I must've only smoked it twice since I lit it awhile ago. It's almost scary that I've been sitting here for the past 10 minutes, half awake, half in awe of the mp3s that I've just downloaded.

No doubt about it. I'm so fuckin' hooked to Bloc Party!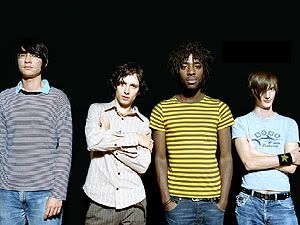 Even before Stereogum made a whole big fuss over them (as it's comments' section would certainly attest to), I knew they'd be stereotyped as the 'Hootie of the Breeteesh' or 'UCB poster kids'. I laughed wholeheartedly at the comments left over there. However negative some remarks were, I really agree with some people that I know who actually have an interest in indie music that Bloc Party have released an album that's tight with brilliant songs, aided with the drumming presence of Matt Tong, twin brother of Pete Tong. Hehe, just kidding!

Their debut album, 'Silent Alarm' has been rotating heavily on my Winamp for the past 2 hours and there's no sign of me shuffling to the newly downloaded 'Fiery Furnaces EP'. Perhaps that album will be closely listened to early next week. I know, I know...I've been lagging enough as it is when it comes to music. I haven't been myself of late. I've actually tried to pen down my thoughts. It's been a rather unfruitful week for me. Maybe that's the reason why I couldn't write as much I would like. I did manage to catch 'Star Wars III' last night with a bunch of peeps and it was a grand and fitting ending of sorts to the prologue trilogy. The lightsaber fight scenes were incredible and for a moment there...I thought that maybe Donnie Yen might have a hand on it (which would explain the meticulous chereography of it all).

I loved my weekend. 'Star Wars' was unforgettable, unlike the first two films.




And Bloc Party...fuck, don't get me started on that one again. Must buy CD of the year!

* UPDATES: For some strange reason, I'm hugely attracted to Bloc Party's 'Price of Gasoline'. Maybe I have a penchant for songs with handclaps. Stone Temple Pilots used to have a lot of Brendan O' Brien supported handclaps didn't they? :P I regard liking songs to my obsession with female bodily fluids. How strange and irrelevant. And naughty...